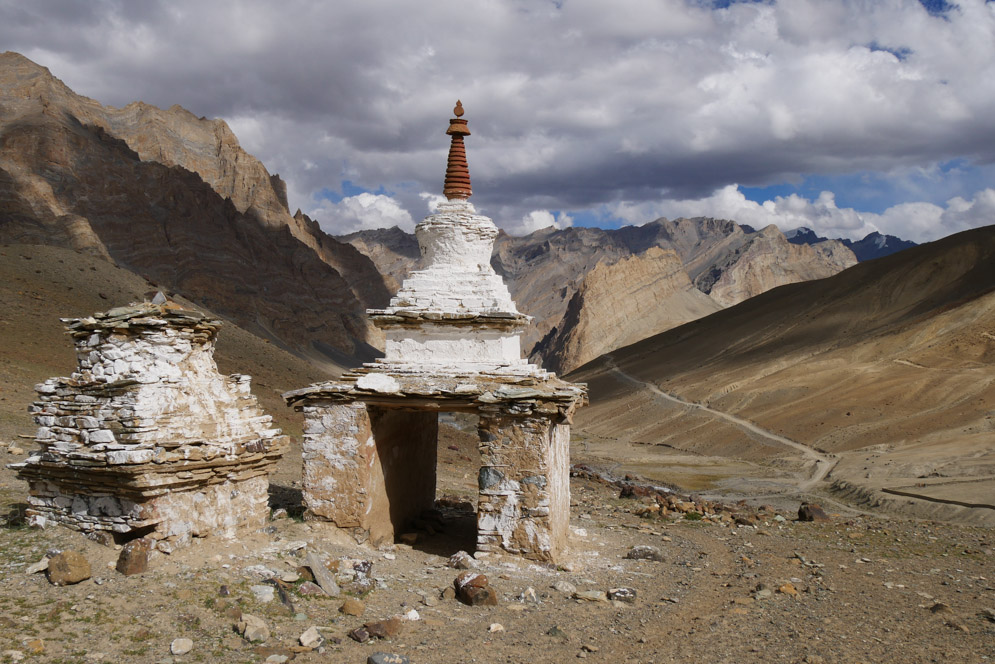 Zanskar is located between the Great Himalayan Range in the south and the Zanskar Mountain Range in the north in the Indian state of Jammu and Kashmir.
We flew to Leh, took the jeep to Lamayuru, stopped for visits to the monasteries in Likir, Alchi and Lamayuru and started our 2.5-week hike through Zanskar in Lamayuru to Sarchu on the Leh-Manali Highway. We traversed Zanskar from west to east. There are now several road sections, which will connect Wanla (near Lamayuru) and Darcha (south of Sarchu) in the next few years. But mot of the old ways still exist, so we did not have to walk along the street. Anyway we covered a part of the route by jeep.
We did not pass a village on some days. Only one family (Zingchen), or four (Hanumil) or even 80 families (Lingshed) live in the villages. In autumn there is harvest time in the villages. Often the harvest was processed very traditionally. This will probably take two months. If machines are in use, the harvest is processed in a few days.
We always camped where there was water. The camps had been used for centuries. We had neighbors only in three camps. Otherwise we enjoyed the very well-located camps alone.
We had organized our tour with Rimo Expeditions in Leh. The following men made the tour possible for us: our guide Rigzin, our assistant guide Purbo, our cook Indra, our assistant cook Karoo, our horse man Suresh and his nine horses.
In Zanskar we visited the monasteries Lingshed, Karsha and of course Phuktal, which was once built in / on the rock. The red rocks in this area and the turquoise river will always be in my mind.
Altogether we walked 212 km, climbed about 8,000 meters up and down, the minimum height was 3,200 m and the maximum altitude was 5,561 m, the Phirtse La. We have been preparing ourselves for the height at home with the help of Markus Göbel .
I really enjoyed the loneliness of the this area and the hikes and somehow I made a dream come true with this trip …